Attend Free Proven: A New 9-Part Docuseries On The Power Of Alternative Medicines To Heal The Diseases Of Our Time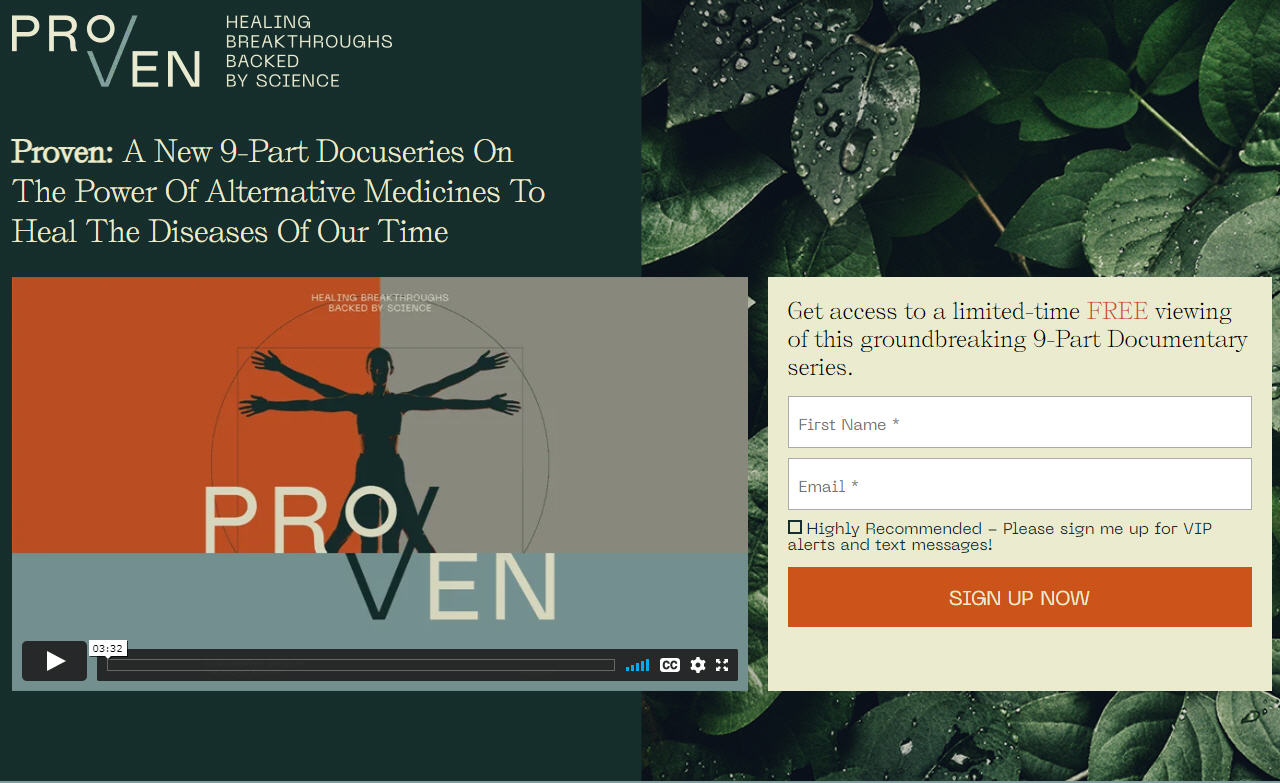 Exclusive FREE Airing June 1st Through June 9th
You will meet the world's top experts we tracked down to crack code on which natural and alternative medicines are the most effective for what ails us. We traveled around the earth to bring their lifetime of experience, research and knowledge direct to you.
You will hear dozens of inspiring stories from people who have overcome many of these diseases using the same information you will get in this docuseries.
You will learn from the greatest collection of master healers, doctors and caregivers ever assembled into a single documentary experience.
You will witness regular people who healed "incurable" conditions, restored health where drugs failed, and got off toxic pharmaceuticals.
There are so many folks out there suffering… and the medical system often doesn't have the answers they need.
If you know anyone who would benefit from this healing knowledge, we encourage you to share this docuseries with them. It could transform their life.
Here's a sneak-peak of what you can look forward to in "Proven: Healing Breakthroughs Backed By Science"
EPISODE 1: The Root Cause Of All Disease – How To Rise Above Stress, Anxiety and Mood Illnesses (Airs June 1st at 9PM EDT)
EPISODE 2: Reversing Autoimmunity & Healing Your Gut (Airs June 2nd at 9PM EDT)
EPISODE 3: Brain Health 101: Restoring and Protecting Cognitive Function (Airs June 3rd at 9PM EDT)
EPISODE 4: The Answer to Fatigue & Insomnia (Airs June 4th at 9PM EDT)
EPISODE 5: Ending Obesity, Diabetes and Heart Disease (Airs June 5th at 9PM EDT)
EPISODE 6: Overcoming Pain (Airs June 6th at 9PM EDT)
EPISODE 7: Healing Emotional and Physical Trauma (Airs June 7th at 9PM EDT)
EPISODE 8: Cancer Breakthroughs (Airs June 8th at 9PM EDT)